Feeling Mother Nature Near
20w in
$900.00
1 in stock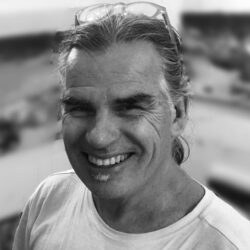 About the Artist: Royce Deans
Royce Deans was born to parents who understood the important role that art plays in society and how crucial exposure and participation in it is to the development of a young person. He was raised in the western suburbs of Chicago with access to museums and concert halls of every variety. He graduated from the American Academy of Art in Chicago which gave him the foundations to build a life in the arts. Royce moved to Traverse City thirty years ago, a decision which he indicates set his art on a wonderful trajectory. Royce sees each artistic endeavor he has embarked on as a rich experience that has shaped the artist he is today.
Living in such an incredible beautiful place the landscape has, of course, become an overwhelming source of inspiration to him. His background and interest in figurative work, mixed with what he has gained from painting local surroundings on location, has allowed him to find his answers daily.
Royce's love for teaching and for art has allowed him to travel far and wide. His art career has made it possible to work in many of the countries of Western Europe and Israel, presenting classes, workshops and retreats.