Mexican Beach
36w in
$2,200.00
1 in stock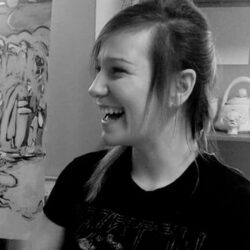 About the Artist: Carrie Day
Carrie Day was born under a rock in 1980. At least that's what her parents used to jokingly tell her. The youngest of 3 sisters, Carrie grew up in blue collar Fostoria, Ohio. As a little girl, she played mostly unsupervised with the neighborhood kids exploring things like pick up sports, Barbies, the public library and dirt. This formative period in her life has proven to be a mainstay in the evolution of Carrie's creative method and style as an artist today. Primarily an abstract artist, Carrie's work reflects a wide range of experiences and emotions that include among other things: raising children as a single mom, childhood trauma, confronting paranoia, resisting depression, managing the pain of arthritis and embracing humor.
After attending Fostoria High School, where she developed her technical foundations in painting and ceramics, Carrie took her love for art to Bowling Green State University where she followed an unconventional path toward an eventual degree in fine arts in 2011.
Ms Day has been active in the local arts community for many years and her paintings and ceramics are known and respected by a wide audience. Her works have been exhibited in juried, solo and group exhibitions locally and nationally. Carries currently resides in Bowling Green, OH where she proudly raises her two lovely daughters and works out of her home studio.