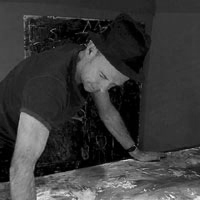 About the Artist: Private: Karl Mullen
Karl Mullen, born Dublin, Ireland, lives and works in Philadelphia. He has developed his own non-traditional approach to art making and materials, utilizing walnut oil, raw powder pigment and a wax medium that coalesce into color-saturated, luminous images.
Painting largely with his hands, Karl creates distinctive, poetic figures that float on fields of color. The imagery in his paintings is born out of Irish mythology, family and dreams.