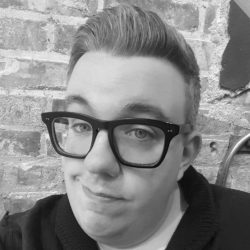 About the Artist: Ian Welch
Ian J. Welch is an artist living and working in his hometown of Toledo, Ohio. Welch received his Master of Fine Arts degree from Northern Illinois University with a focus in printmaking in 2016, his Bachelor of Fine Arts degree from Bowling Green State University in 2011, as well as receiving his Associate of Arts degree from Owens Community College in 2008. Welch has had work featured in multiple exhibitions throughout the US including The International Print Center of New York, Print Austin and the Ann Arbor Art Center, along with curating multiple Exhibitions throughout Northwest Ohio.
Welch is currently an adjunct instructor at Bowling Green State University and Owens Community College and Gallery Coordinator at Gathered Glassblowing Studio. Additionally, Welch is the owner of Pegboard Press, a printmaking workshop and studio space in Toledo, Ohio dedicated to education, workshops and public engagement utilizing lithography relief and especially intaglio methods.